Vista Technology Support is proud to sponsor the Digital Transformation Project of the Year category in this year's RTIH Awards
The announcement was made on Retail Technology Innovation Hub's website. You can read the full article below, or view the original article as it appears on the website HERE.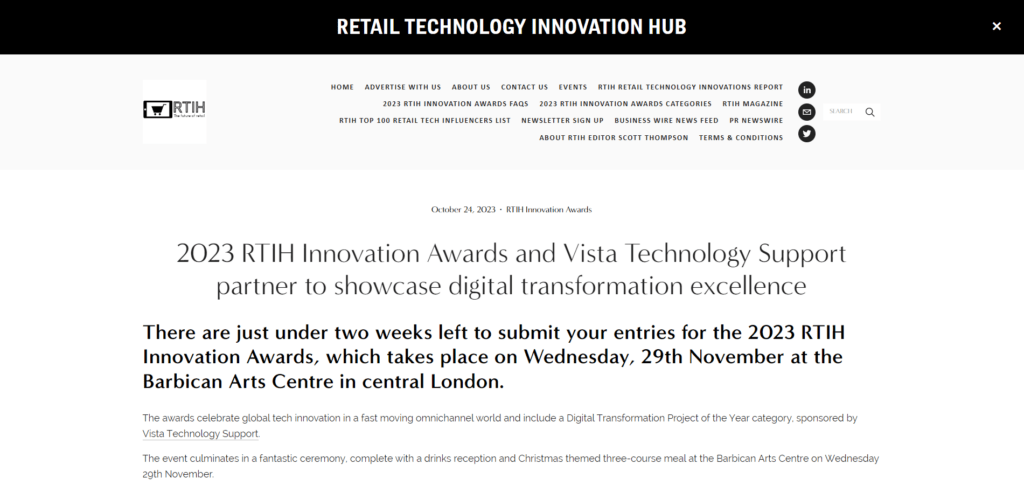 There are just under two weeks left to submit your entries for the 2023 RTIH Innovation Awards, which takes place on Wednesday, 29th November at the Barbican Arts Centre in central London.
The awards celebrate global tech innovation in a fast moving omnichannel world and include a Digital Transformation Project of the Year category, sponsored by Vista Technology Support.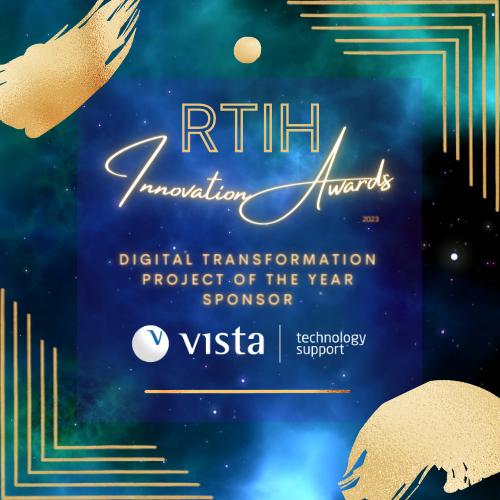 The event culminates in a fantastic ceremony, complete with a drinks reception and Christmas themed three-course meal at the Barbican Arts Centre on Wednesday 29th November.
Deadline for 2023 submissions is Friday, 3rd November.
The aforementioned category is new for 2023.
This award celebrates those who are at the forefront of digital transformation in the retail space, achieved through the deployment of innovative technologies.
Our judges will be looking for a company that has delivered a significant transformation project for a customer, such as integrating disparate systems, updating legacy technology, empowering the client to create seamless and personalised shopping experiences, and unlocking new possibilities to grow the business.
Download an entry form here.
Click here for further information on the 2023 RTIH Innovation Awards.
James Pepper, CEO at Vista Technology Support, says: "On behalf of everyone at Vista we are proud to sponsor the RTIH Innovation Awards."
"Retail technology has always been an exciting and fascinating industry and there is now more technology in store than ever before. We look forward to celebrating this year's retail technological innovations with all the award nominees and winners."
RTIH Editor, Scott Thompson, says: "Innovation and technology play a critical role in the success of the retail sector, so it is great to recognise standout examples through our awards."
"Thanks to all those who entered the 2022 event. We received a record number of submissions and many fantastic examples of the continued resilience and dynamism of the retail space during hugely challenging times."
"I'm excited to launch the fifth edition of the awards. The 2023 event will be the biggest and best yet."