Vista's ESG mission is to maintain a profitable and sustainable business built upon its strong culture of social responsibility, a desire to protect our environment and to have a positive impact on both our local community and the wider world. It is Vista's objective to maintain industry-leading ethical standards and in so doing, take good care of and develop our colleagues, promote fairness and equality and demonstrate exemplary organisational governance.
The ESG auditor commented on Vista's 2023 ESG report results:
"Vista scored very highly on all aspects of ESG that was assessed,
and the business sits in the upper range of developing ESG and
only 1% off Advanced status. It's anticipated that with the ESG
strategy the business has in place that they achieve
Advanced status by Q4 2023".
Environmental Commitments and Policy
Vista Technology Support understands that to have a meaningful impact on our environment, we need to introduce relevant measurements of organisational environmental impact and take decisive positive action to address environmental issues we face.
As an IT services provider Vista does not manufacturer any equipment, materials or substances that could negatively impact our environment. We do, however, procure, stage, deliver, install and decommission technology for customers throughout the UK and Europe. Therefore, the areas of focus contained with Vista's Environmental and Sustainability policy and our commitments are highlighted as follows:
Energy - Reduction and Renewables
Vista monitors and measures the use of energy. As Vista does not manufacturer products, our consumption of electricity across the business is similar to that of a medium-sized office block. We encourage colleagues to "switch off equipment when not in use" and we have also automated many lights and office equipment to power down when not in use. Our buildings have been fitted with low-energy light fittings. From the electricity we consume, 51% is sourced from zero-carbon emissions or renewable sources with plans to achieve over 90% from these sources by 2025.
Vehicles and Fuel Usage
Vista has a fleet of over 130 vehicles most of which are diesel vans. Our plans are to replace this fleet with hybrid or fully electric vehicles as soon as the current leases expire and when electric vehicles become a viable option from a range and charging practicability perspective. In the meantime, Vista has invested in a service management mobile application that assists field engineering planning, so the engineers' working days are planned in the most energy efficient manner. In 2023 Vista is committed to further investment in this technology.
NetZero Carbon Footprint Commitment
Vista's 2022 carbon footprint was 600 tonnes. Our commitment is to continue to invest in new technologies, vehicles and processes to reduce our carbon emissions to net- zero.
In the short-term we will commit to offsetting our carbon emissions by donating to reforestation and afforestation projects and planting our own carbon consuming plants and shrubs in the grounds of our offices. Vista is also committed to involvement in local environmental initiatives and schemes.
Electrical and Electronic Waste Management
The team at Vista is immensely proud of its achievements when it comes to preventing electronic waste going to landfill. Vista has a state-of-the-art repair facility based in South Wales where the team of expert IT and electronics repair technicians are able to repair 97% of our customers' defective IT equipment in-house. Furthermore the remaining 3% is sent to our electronics recycling partner who either re-use or recycle 100% of this equipment. The net result is 0% landfill and a complete circular economy.
Vista also decommissions legacy IT and EPoS equipment from our customers' stores, restaurants and pharmacies environments. We work with our customers to re-sell, re-purpose or if all other avenues fail, recycle the waste technology. To date, Vista has prevented over 125 tonnes of electrical waste that couldn't be re-sold or re-purposed from going to landfill through recycling.
Eradicate Single-use Plastics
Vista is proud of the fact that we do not introduce any new single-use plastics during the course of providing our services. Our biggest challenge remains packaging waste from legacy IT hardware. Unfortunately legacy technology needs to be transported safely and securely and due to the age of the products, the original manufacturers' packaging will no longer be available. In this instance our Warehouse and Logistics team often design new re-usable packaging. Vista is committed to continue to invest in new re-usable or biodegradable forms of packaging.
Environmental Policy, Process and Governance
Vista's commitment to the environment is underpinned by our environmental and sustainability policy, associated operational processes, reporting and monitoring progress.
Vista's Environmental and Sustainability Committee meets on a regular basis to discuss environmental topics, review strategy and objectives as well as progress against Vista's environmental targets. The team will also ensure the understanding of and adherence to environmental legislation and regulations.
Vista is working towards ISO 14001 standards with the aim of achieving full accreditation by 2023.
Corporate Social Responsibility
Vista encourage its people to give something back to their local communities and to charity, – whether it is time, effort or a financial contribution. Vista works with local schools to donate recycled IT equipment, refreshing schools;, ICT and contributing to a circular economy.
Vista has supported and continues to support a range of charitable enterprises within our community and surrounding areas:
Vista's Support of Tŷ Hafan
Tŷ Hafan is a children's hospice based in South Wales. Over the last few years, our colleagues have engaged in multiple fundraising events for the charity. Vista's CEO, James Pepper, is also a trustee at the hospice and offers his expertise and assistance with board matters. James is also a Tŷ Hafan fundraiser through his captaincy of the Tŷ Hafan ice hockey team and has raised over £35K for the charity.
https://www.tyhafan.org/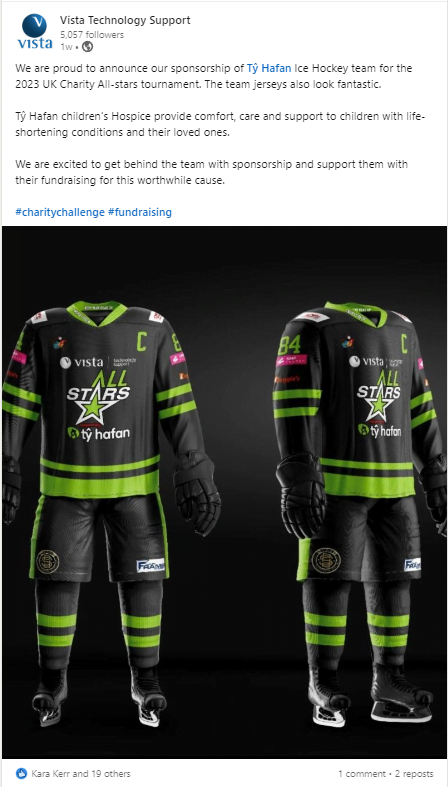 Vista's Support of Bigmoose
Bigmoose is a Cardiff-based charity whose aim is to leave the world in a better place. Their main area's of focus are mental health, suicide prevention and working with homeless people. Vista has provided fundraising initiatives, donated technology for their charity coffee shop and provide ongoing technology support free of charge.
Vista's Support of RCV UK
Risca COVID-19 Volunteers was a charity set up during the pandemic to provide support to people in need within the local community. It provides a range of support services which includes someone to talk to, assistance with shopping, a food pantry for businesses and the community to donate surplus food to and local residents to call upon if in need. The charity also runs a library and coffee shop with onsite computers with internet access. Vista were able to support the charity by donating IT equipment.
Vista's Support of the Toy Box Project
The Toybox Project provides toys to children who are in need. They provide toys to children in social care or from families who have fallen on hard times.
To assist the Toybox Project, Vista ordered over £500 worth of toys listed on the Toybox Project website and also asked colleagues to donate new and used toys. The response was overwhelming and as a team we managed to fill a Vista van with toys, books, footballs and rugby balls.
On the night of delivery, the importance of the Toybox Project was clear to see. James had just helped a family that had been re-homed; the children had nothing and he invited them to help themselves to toys from the shop. The family were so appreciative and the children left with bags full of toys and books.
"We are thrilled to have the support of James and the team at Vista, where we are blown away at the sheer number of toys they donated. So grateful and still a little speechless. Due to growing demand for our service, we have already re-homed a large amount of the toys to families in need, community groups and schools. More people and organisations are struggling to purchase their toys. Thank you again, it means so much to us and those who receive the toys"
Read our Press Release: Toy Story – The Toybox Project

This year Vista Technology Support kindly contributed funds to assist Adventurers, which relies on donations (the amount received in donations directly limits the fees that everyone who attends the site has to pay), to meet their target of £3,500 to cover the cost of food for the week. To express their gratitude to Vista for the contribution, Adventurers recorded a thank you video. You can also read the blog HERE.
Vista is a well-established business backed by Lloyds Development Capital LDC, and as such we have established excellent standards of governance within the business. Vista employs the services of external independent auditors to ensure maintenance of excellent standards in the areas of finance, operations, health and safety, HR and information and cybersecurity.
Our Executive Board consists of four Executive directors, a non-exec Chairman, two non-exec Investor directors who are all appropriately trained and have extensive company director experience. Our Finance Director, Commercial director and Financial Controller are also all ACA qualified.
The business presents full financial analysis for scrutiny by the board on a monthly basis and Vista's year-end audits are undertaken by external auditors, PWC and published within required timescales as defined by Companies House.
Vista has an excellent financial track record, both in terms of performance and audit results.
Operational and Quality Governance
All of Vista's services are underpinned by quality measurements, KPIs and contractual SLAs, compliance against targets is measured daily, weekly and monthly. Vista's Operations Director is an Executive Board member and presents performance stats to the Board for review. Vista's PCI-DSS P2PE operations are subject to an external validation by NCC Group who have issued an Attestation of Compliance (AoC) with a supporting Attestation of a Validation (AoV) for its PCI-DSS P2PE services and by LRQA for its ISO 20000 and ISO 27001 accreditations. Vista is also audited by Investors in People and has maintained these standards for nearly 10 years.
Environmental and Social Governance
Vista's environmental policies are all approved at Board level and our teams provide regular progress measurements. Our aim is to achieve continuous environmental improvement. The business is currently working towards ISO 14001 accreditation.
Vista's Social Committee sits at the heart of our social and charitable initiatives, their purpose is to bring ideas and suggestions to the business and also decide which initiatives are worthy of the company's support which are then presented to Vista's Exec team for approval.