Hospitality IT, expertly deployed & supported
For more than 25 years, Vista has worked with the UK's most recognised hospitality organisations to implement large-scale technology rollouts, provide industry leading hospitality IT support (given our extensive hospitality technology experience), and advise our customers on the right technology strategy for their business.
Vista's hospitality managed IT services has worked in partnership with leading restaurant brands, QSRs, hoteliers, pub chains, cafes, sports venues and cinemas to achieve their digital ambitions and deliver meaningful experiences in their customer or guest-facing and back-of-house environments.
The Hospitality Industry's
IT Partner of Choice
Vista Technology Support is the trusted IT partner of choice to some of the most well-known hospitality brands. In fact, the business provides IT solutions to the largest restaurant chain in the world, the UK's largest hotelier and 64% of cinemas in the UK and Ireland. Vista works closely with its customers and acts as an extension of their own businesses, aligned in strategy to either deliver digital strategy or provide full lifecycle support of their IT infrastructure and IT assets.
With hospitality operators reliant on their technology today, it's never been more important to have a reliable support solution in place for their most critical systems. When restaurants, drive-thrus, hotels and leisure operators experience an influx in demand during busy periods, they need to make sure their systems can cope seamlessly with the additional workload in the background.
As operators continually deploy new innovative technologies in order to improve their guest and customer experience, it's important they work with the right partners who have the knowledge and understanding to deliver. Resulting in maximum benefit, with minimal risk and business interruption.
Vista is as passionate as our customers about providing an exceptional service. Our teams relate to the industry's toughest business challenges and identify new insights aligned to the most critical business objectives. We're proud to offer our hospitality customers a responsive service partnership, supported by flexible commercial models, tailored to our customers' needs.
At Vista, our industry-leading SLAs provide a rapid response to ensure operational interruption is kept to a minimum. Whether it's your front or back of house, early in the morning or late at night, whenever you need us, we are there, offering reassuring peace of mind.
Hospitality IT Projects Expertly Planned
and Delivered On Time and On Budget
Vista IT Project Services are on hand to plan and implement the deployment of new hospitality technology on time and within budget.
Once technology is deployed into a live restaurant or venue, Vista provides a robust support system for when these systems experience inevitable and unavoidable disruptions.
Unrivalled Hospitality IT Helpdesk
and Break-fix Services – Quality & Experience
Vista's portfolio of technology services offers hospitality businesses the complete IT support solution which is underpinned by industry leading SLAs of 2/4/8 hours and next business day fix for both remote helpdesk, as well as on-site break-fix maintenance engineering.
Our customers consist of over 120 different well-known brands. Whilst the majority of our customers are located in the UK and Ireland, Vista provides support to our customers in over 30 countries.
Vista responds to over 200,000 Hospitality IT technology incidents every year for our customers and consistently exceeds our contractual service level agreements. In order to achieve these excellent standards of service, efficiency and value for our customers, Vista has adapted a unique service offering where all of the core components are provided by Vista colleagues, using systems that have been designed specifically with the objective of delivering excellent IT services to restaurants, hotels and cinemas.
In-store Restaurant
Technology Support
Vista supports a wide range of hospitality technology, including all devices and systems that are installed within the four walls of a hospitality business. Vista's highly effective and efficient Inventory as a Service (IaaS) model ensures that we hold the right part in the right place to respond to our customers' requirements. Vista holds an inventory of over 5,000 unique hospitality IT parts and peripherals which are strategically placed to support our customers 120,000 points of sale (PoS) and other instore technologies.
Our highly skilled engineering teams have extensive experience in the support of all the technology that is installed within the restaurant, hotel and cinema environment, including:
Back-office Technology – Network routers and switches, servers, screens, PCs, laptops and printers, biometric time and attendance systems.
Kitchen and Drive-thru Technology – Kitchen management systems (KMS), Kitchen Video Screens (KVS), voice comms and headsets, drive-thru management systems, sensors, screens, speakers (in restaurant and external to restaurant), IoT devices.
Customer or Guest Facing Technology – Self-service kiosks, Wi-Fi, digital signage.
Point of Sale (POS) Technology – PoS systems, hospitality EPoS systems, chip and pin devices, receipt printers, barcode scanners, cash drawers, customer displays and facing screens.
If your technology is deployed within a hospitality environment, Vista can provide both preventative and responsive maintenance and IT support for business.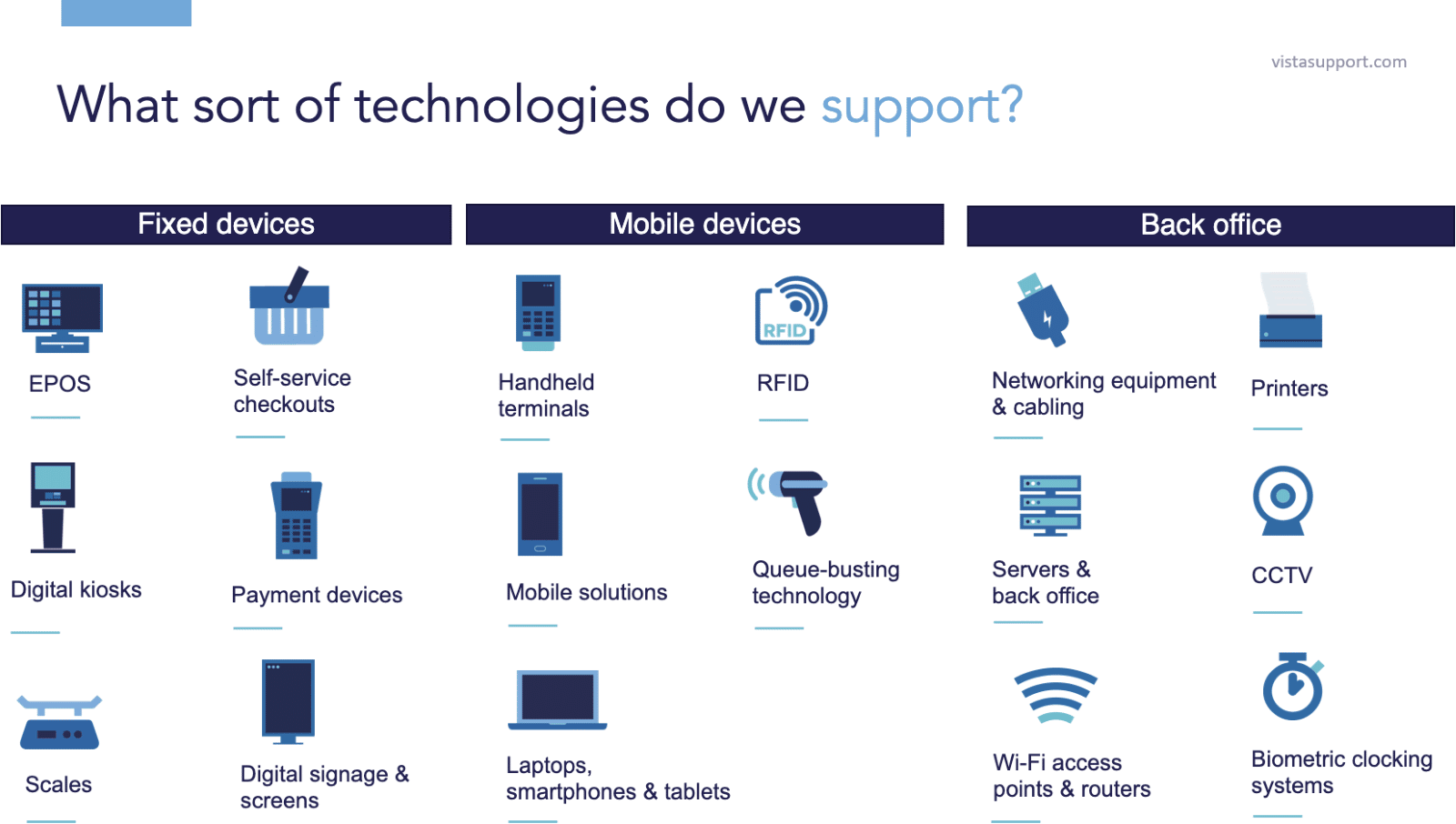 When it comes to the support and deployment of hospitality technology, you won't find our kind of expertise anywhere else.
To find out how your business can benefit from our Hospitality IT support services, simply email us on sales@vistasupport.com or call us on 0330 135 5795 to obtain expert advice from one of our experienced Business Development Managers.