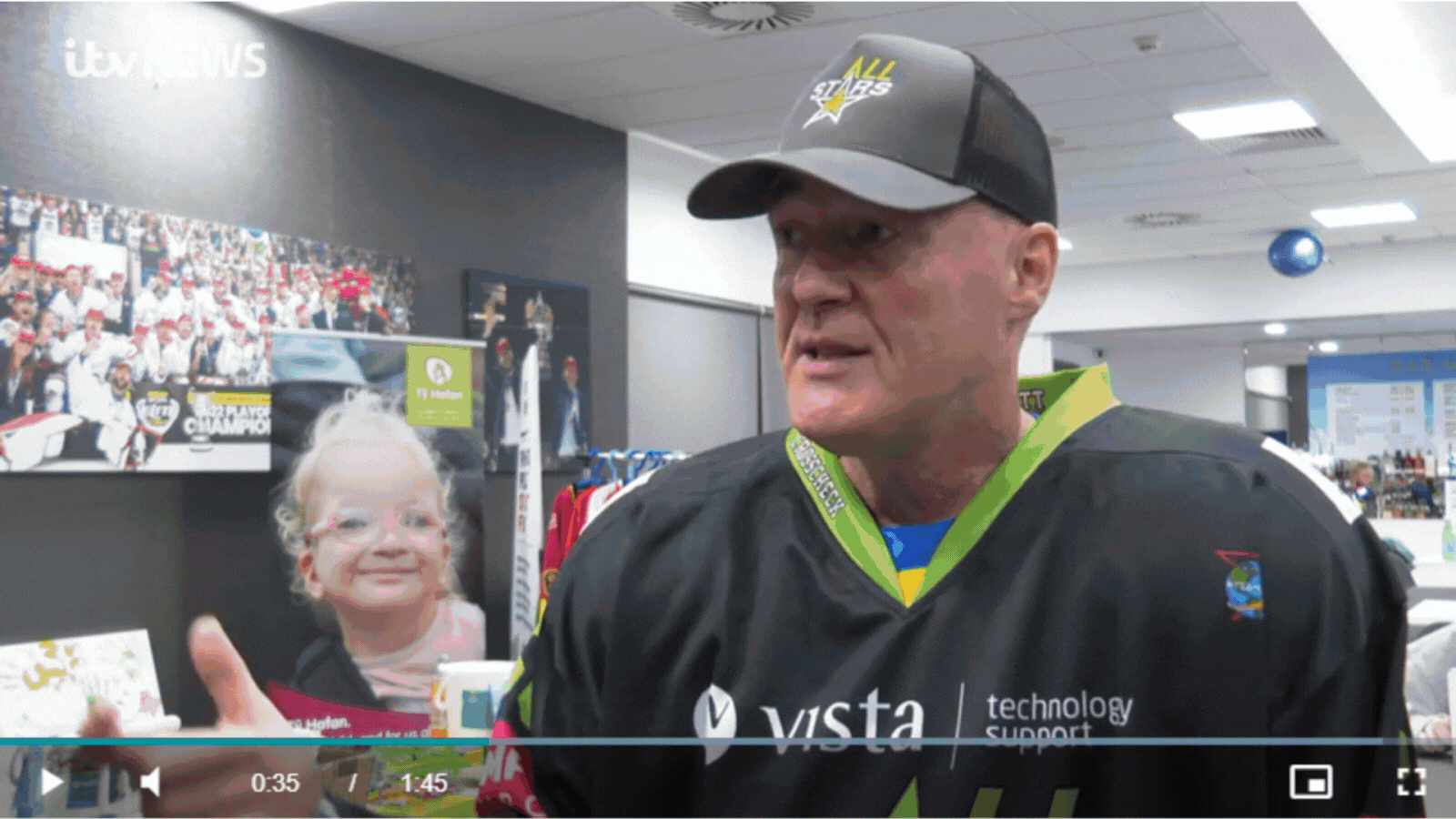 ITV News attended this year's annual UK Charity All Stars 2023 event. They produced a video report which was  broadcasted to promote the various charities which participated at this year's event, and penned an article "Charities clash in ice hockey fundraiser with Cardiff Devils' legend Steve Moria among players".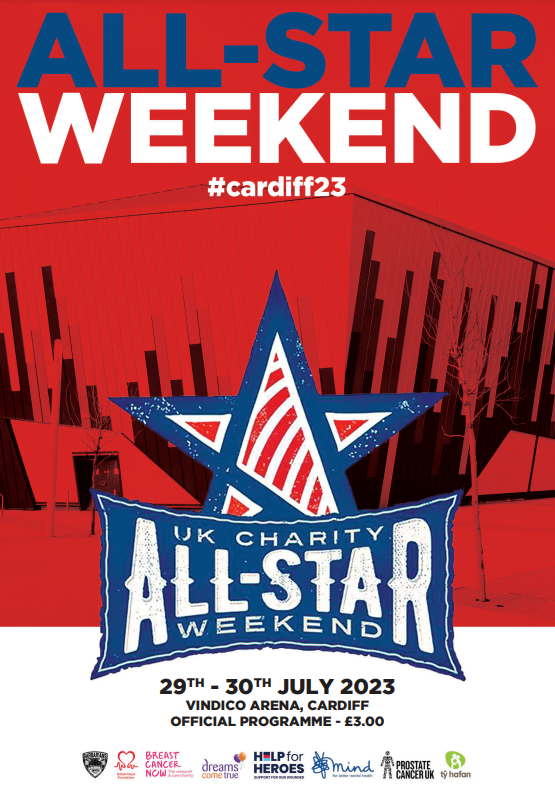 The video report featured Tŷ Hafan, for whom Vista Technology Support were the headline sponsors. Vista helped raise over £19,000 for them and over £132,000 was collectively raised by this year's event with more than £1 million since 2008.
The event took place over the weekend of 29-30 July 2023 with two of Vista's colleagues, Andrew Davies and Vista's CEO James Pepper playing for the Tŷ Hafan team.  James Pepper also captained the team.
Vista would like to express their gratitude to all the Tŷ Hafan team members who helped contribute to the money raised for the event.
Vista's CEO, James Pepper, commented:
"We are delighted that the UK Charity All-stars event was a huge success.  The event has raised over £130,000 for charities in 2023 and over £1,000.000 in total, which is incredible."
"This year Vista sponsored the Tŷ Hafan team again and the jerseys looked fantastic.  The team are an amazing group who genuinely care about doing their best for the charity. We all have a connection with the families at Tŷ Hafan and some of them were able to join us for the tournament at the weekend.  We loved seeing the children enjoying the ice hockey. On and off the ice, every teammate gives their all to raise funds and/or awareness for the charity. We are proud to support such a fantastic event and help raise funds for such a worthy cause."
You can view the full article below, or alternatively read the original article on ITV News' website HERE which includes the original video report by ITV Wales journalist,  Brad Williams.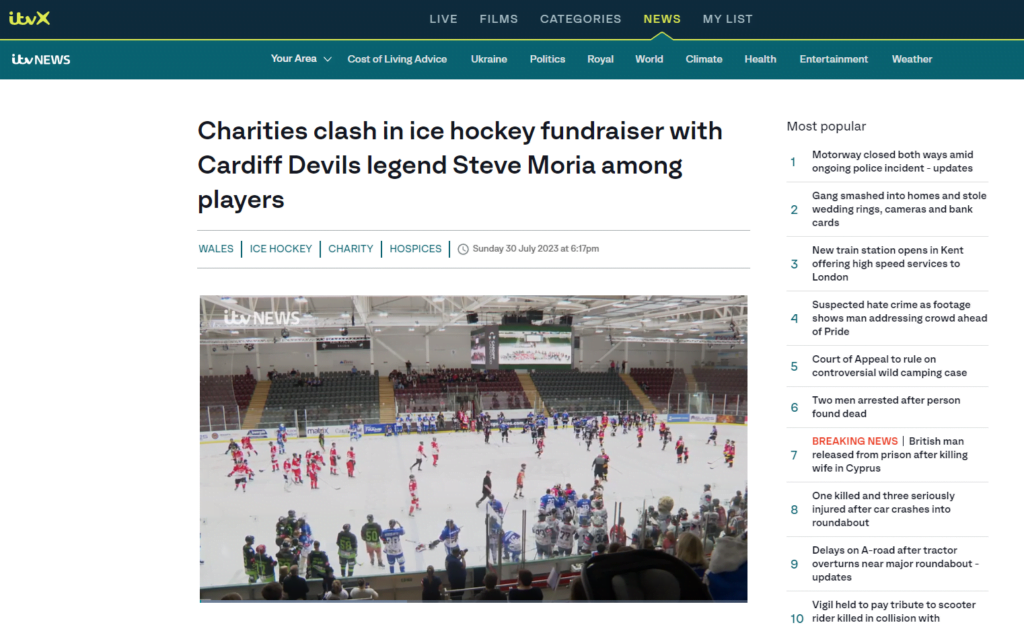 Eight charities have raised more than £132,000 by competing against each other in an ice hockey fundraiser event in Cardiff.
Charities including Mind, Prostate Cancer UK, the British Heart Foundation and Help for Heroes all took part in the annual UK Charity All Stars Weekend at the Vindico Arena.
Professional ice hockey stars including Cardiff Devils legend Steve Moria played alongside amateurs who wanted to support the charities.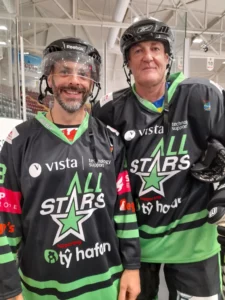 Chris Thomas (left), whose family was supported by Tŷ Hafan, took part for the first time alongside seasoned player Rick Strang (right).Credit: Tŷ Hafan Children's Hospice
The team representing Tŷ Hafan Children's Hospice raised more than £18,000 for the charity, which supports children with life-limiting illnesses and their families.
Chris Thomas, from Caerphilly, took to the ice for the first time ever after his family was supported by Tŷ Hafan.
His daughter Scarlett began receiving care at the hospice at 10 months old after being diagnosed with a chromosomal condition so rare it did not have a name.
She died in 2018 aged four and since then his parents have raised more than £25,000 for the hospice.
Rick Strang, a seasoned player for the Tŷ Hafan team, said he was inspired to compete after meeting Scarlett.
"These guys, when everything shut down for covid, Ty Hafan really struggled.
"This is a charity that needs about £5 million a year to keep going, so anything we can do to help and events like this.
"I think our teams have raised something around £18,000. That's why these things are important."
The event has raised more than £1 million in the 13 years it has been running.
UK Charity All Stars committee member Steve Baker said: "With this very tight ice hockey family, because it's not a world sport like football or rugby, they just seem to come together.
"The result of it is they raise hundreds of thousands of pounds every year so it's great."
The event runs throughout the weekend with spectators asked for donations to enter.