Retail Technology Innovation Hub features Vista's new partnership with Costa Coffee on its website
Read the full article below, or to view the original article as it appears on Retail Technology Innovation Hub's website, follow this LINK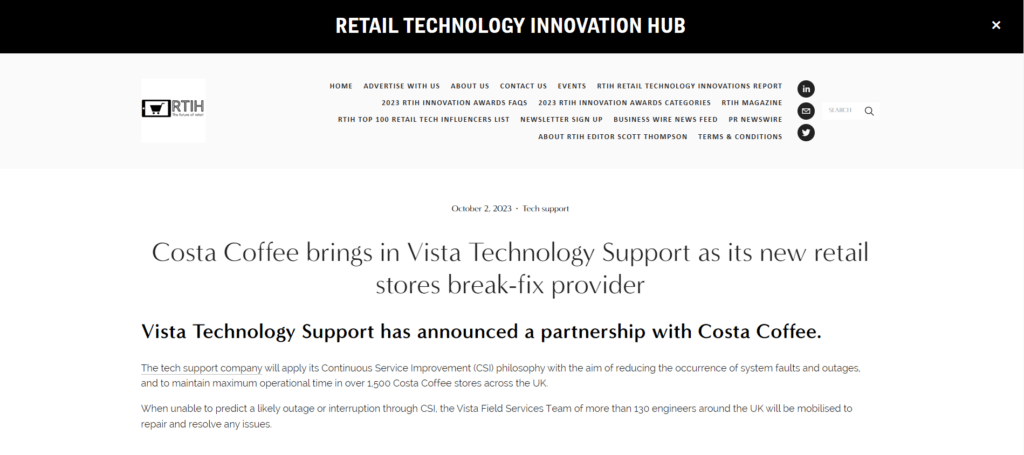 Costa Coffee brings in Vista Technology Support as its new retail stores break-fix provider
Vista Technology Support has announced a partnership with Costa Coffee.
The tech support company will apply its Continuous Service Improvement (CSI) philosophy with the aim of reducing the occurrence of system faults and outages, and to maintain maximum operational time in over 1,500 Costa Coffee stores across the UK.
When unable to predict a likely outage or interruption through CSI, the Vista Field Services Team of more than 130 engineers around the UK will be mobilised to repair and resolve any issues.
James Pepper, CEO at Vista, comments: "Every one of our colleagues is excited at Costa's selection of Vista as its service partner and looks forward to delivering our great service to their team."
"In our post-Covid world hospitality, just like retail, has seen a significant shift in technologies to accommodate new customer ordering, engagement techniques, and delivery methods."
"With more self-service, drive-thru, pay-at-post and customer automation solutions deployed, comes an increased level of support complexity. However, ensuring that everything remains operational and functional is at the core of Vista's popular business offering."
Darren Phillips, Costa Coffee's Global Head of Central IT Services and Support, says: "We're thrilled to welcome Vista Technology as our new retail stores break-fix provider."
"Its expertise and commitment to excellence align perfectly with our core values, allowing us to better serve our stores, providing them with an enhanced, innovative, and improved service.
"Costa is confident that this partnership will bring great success and mutual benefits to both organisations."
Pepper adds: "Our ability to manage a customer's estate from a bare shell through to its installation, to opening and going live, as well as providing everyday helpdesk and field service support needs, all from a single organisation, is a very compelling proposition to many businesses."