GHP Magazine announced Vista Technology Support as 'Best Pharmacy IT Support Company 2023' at this year's Healthcare & Pharmaceutical Awards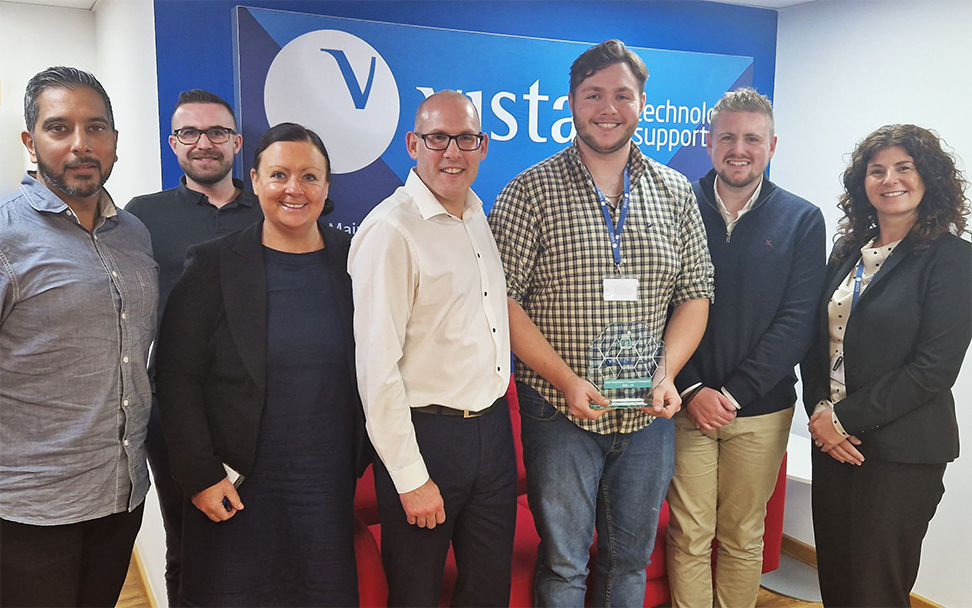 Vista and AAH Pharmaceutical colleagues receiving the GHP award at Vista's Head Office in Cardiff.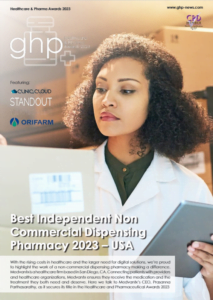 GHP has published an official press release which you can view HERE.
GHP carried out an interview with Vista's CEO, James Pepper, as the company is crowned at the Healthcare and Pharmaceutical Awards 2023. The article is featured on page 92 in its online magazine celebrating the awards.
You can read the full article below or click HERE to view the live online magazine. You may also like to click on the image below to access the PDF VERSION.

Vista Technology Support (Vista) is the largest independent provider of technology deployment and support across the UK and Ireland and is trusted by 120 retail, hospitality, and pharmacy businesses to deliver their technology transformation projects and ongoing IT support services.
We find out more from James Pepper as the company is crowned in the Healthcare and Pharmaceutical Awards 2023.
Throughout its 28-year history, Vista's services have evolved as the business has established itself as the market leader in EPoS maintenance, retail, hospitality, and pharmacy IT support throughout the UK and Ireland. The company specialises in providing data cabling, Wi-Fi, and technology deployment. Once the technology is deployed into stores, restaurants, and pharmacies, Vista provides both remote and onsite IT support.
The firm's customers include some of the biggest high street, retail park, and entertainment centre brands including the fastest growing grocers, the UK's largest hotelier, and the world's largest restaurant chain. Vista also provides a full suite of IT services including technology sourcing, staging and deployment, IT helpdesk, and onsite engineering to AAH, the largest group of independent pharmacies in the UK.
Vista's core company values include: to do the best it can for its business, customers, and colleagues; to demonstrate honesty, integrity, and flexibility; to be transparent in its operations; to respect its environment; and to be committed to its people.
Vista colleagues are recognised by customers as their partner of choice, demonstrating the firm's values in their behaviours and striving to work as one team, in partnership with customers and suppliers. Vista also continues to invest significantly in its people and is proud to have retained its Investors in People accreditation for many years.
"Our strong people culture and treating customers, colleagues, and suppliers with respect has ensured that we have built excellent relationships within the industry, retained experienced colleagues during a time where competitors have struggled, which has resulted in Vista's continued success in the industry," explains James Pepper, the firm's CEO. "Customers who have selected Vista have also advised that cultural fit and values scored highly in their decision."
With more than 130 in-house field engineers based across the UK and Ireland, with an average length of service of 10 years, Vista is a clear leader within the industry and sets itself apart from competitors. Vista achieves this by having complete ownership and accountability for its services, having resolved more than 224,000+ technical incidents in 12 months and having a continuous improvement culture (CSI), leveraging technology to improve efficiency and effectiveness.
Another feather in Vista's cap is that it is also IT hardware agnostic, supporting more than 5,000 disparate technology devices.  Its 33 highly skilled and experienced on-site repair engineers complete over 7,000 repairs per month using advanced circuit board reflow technology, which enables them to successfully repair 97% of the devices that are returned for repair – the remaining 3% are either re-purposed or recycled in line with WEEE regulations.
In today's environmentally aware society, there is pressure on businesses to become more sustainable. Whilst Vista is committed to investing in new technologies, vehicles, and processes to reduce its carbon emissions, it does face one huge challenge – de-carbonising its fleet of diesel vehicles. Due to the nature of the extensive travelling requirements of its field engineers, Vista is currently unable to electrify its fleet.
However, Vista understands that to have a meaningful impact on the environment, it needs to introduce relevant measurements of organisational environmental impact and take decisive positive action to address the environmental issues faced.
James tells us more. "In the short-term, Vista will commit to offsetting its carbon emissions by donating to re-forestation and afforestation projects and planting our own carbon consuming plants and shrubs in the grounds of our offices."
"Vista is also committed to involvement in local environmental initiatives and schemes. Furthermore, Vista has recently partnered with an environmental sustainability partner, Ecologi, to assess our carbon footprint and devise a strategy to offset our carbon-emissions in the most sustainable way, with the aim of becoming a carbon-neutral company by 2025."
Recently, in recognition of its commitment to its clients, staff, and the environment, Vista was named Best Pharmacy IT Support Company 2023 – UK, and it's not hard to see why. The company has just experienced its most successful sales period which saw it awarded  90% of its target IT contracts that went to market RFP and concluded in the last 12 months.
Vista Technology Support provides 1st and 2nd line service desk support for AAH Pharmaceutical's estate of ca. 2,000 independent pharmacies, providing a highly responsive technical desk for all of their in-house pharmaceutical needs.
Vista provides a full life cycle of services including technology procurement, in-pharmacy data cabling, technical installations and on-site engineering whenever the pharmacy requires our services.
AAH Pharmaceuticals can log service requests through an on-line portal or if they prefer via telephone and the Vista Service Desk team will respond quickly to expedite the resolution of their IT issues.
"We are busy onboarding several new customers," James comments, elaborating on the firm's future plans. "For these customers we will deploy new restaurants, including the power and data cabling, drive thru, kitchen systems, EPoS systems, and self-service kiosks. In retail, we have a new customer with a specific Mobile Device Management (MDM) service. Our projects business is busy assisting businesses with digital transformation projects."