Following the resounding success of our inaugural "Family Time" initiative event at the Cardiff Devils, rugby was chosen as the next event of choice.  We offered Vista colleagues the chance to see Wales take on the All Blacks at the magnificent Principality Stadium in the heart of Cardiff city centre.
Our colleagues were offered the chance to win tickets for the family and we were inundated requests from colleagues to enter this free prize draw.
The winner was Brian who works within our Logistics department.  Brian elected to take his son and brother to the game; they had a fantastic day out even though the score didn't go in favour of the Welsh with the All Blacks running out 23-55 winners.
Neither the rain nor the score line could dampen the spirits of Brian and his family as they had a much-needed break and thoroughly enjoyed the day.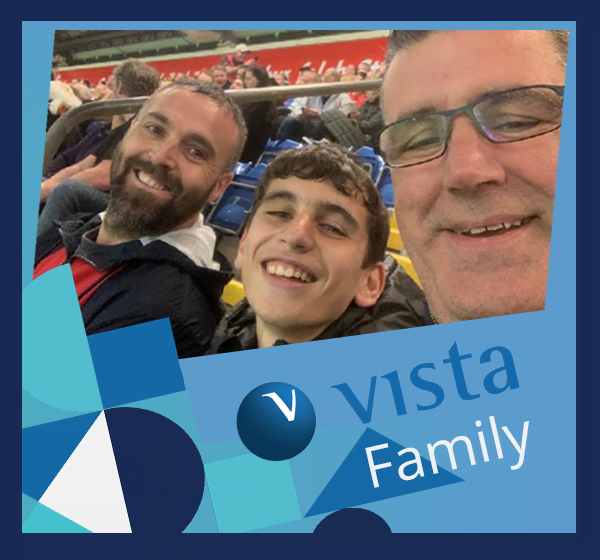 Brian commented:
"This is a really good initiative for staff, we felt like we were ambassadors for the company and the whole day was amazing.  My son thoroughly enjoyed the game and my brother has been unwell of late so it meant a lot to him; the impact on his mental health has been immense."
"The family time initiative is great.  It gives everyone an opportunity to do things you might not have normally had access to or could not afford, also to spend valuable time away from work with my family.  Thank you Vista for a fantastic day out!"
James Pepper, Vista CEO commented:
"It sounds like Brian and his family had a great time; this is exactly the type of family experiences we wanted to create as part of this initiative.  It was clear to see how much excitement the ticket giveaway generated within the business and the positive impact days like these can have on family life."
We are conscious that over 50% of our colleagues are not based in South Wales, therefore we are currently introducing a similar competition that will appeal to remote, field service and projects teams that are live throughout the UK and Ireland."