Vista are proud to support the Lisvane Panthers U13 football for the season ahead. 
The Lisvane Panthers Greys are a grassroots junior football team based in South Wales and due to the pandemic have not played a competitive league game since February 2020.  Most of the team at the time of the first UK lockdown were under 11's and in Year 6 of primary school.   
Whilst COVID-19 has impacted so many people in different ways, Year 6 pupils faced the anxiety of leaving their primary schools without saying goodbye to friends and teachers, moving to high school with limited face-to-face teaching and being unable to socialise with friends or play their favourite sports.  
The Lisvane Panthers have worked tirelessly to get the team training and playing again and in those periods when lockdown restrictions were eased, managed to fit in a few friendlies.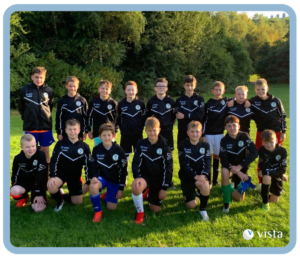 As if the above was not enough of a challenge for the coaches, during the summer the team learned that several local teams were folding due to players leaving and giving up the sport due to the prolonged layoff.   It was at this point that the coaches stepped in and decide to create a second team and provide an opportunity for the players without a club to have fun, make friends, train, and play matches.
The team coaches realised that with more players more football kit was required and this is where Vista were happy to step in to provide the newly formed squad of 30 children with new kits.  
Pete Tancock Lisvane Panthers' U13 coach commented
It's been an incredibly difficult time for the kids, we have had so many setbacks and disappointments, the team really needed a lift. When we handed out the new kits the kids were really pleased, instead of the players turning up in different tops now they all arrive and look like a team. Thanks for your support, Vista.