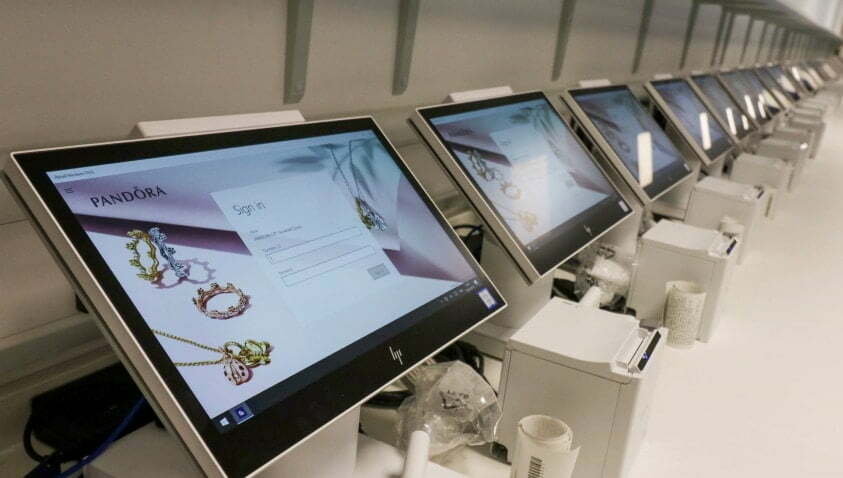 Pandora is one of the world's leading jewellery manufacturer and retailers, recognised on today's high-street for its elegant selection of designer rings, pendants, necklaces, watches and customisable charm bracelets.
Pandora needed a partner that could deliver a point-of-sale refresh throughout its 151 stores in the UK and Ireland within 8 weeks, on time and within budget. The project included the staging and installation of HP Engage One EPoS Systems with a new Adyen payment solution, and the complete refurbishment of existing legacy PoS systems.
maximum number of sites a day
As one of the largest providers in the retail IT support market, Pandora already were familiar with the Vista name. In addition, a fellow client of Pandora had shared some excellent feedback regarding Vista's project delivery services, giving Pandora confidence that Vista was the ideal partner for its PoS rollout.
Once engaged, Vista's project team was required to stage, refurbish, configure and install over 1,300 devices including HP Engage One systems, Epson M30 receipt printers, existing Aures EPoS systems, Surface Pro tablets, and Adyen VeriFone payment devices.
Ahead of the project, we completed the initial operational planning phase, introducing stringent processes to receive all Pandora hardware into our secure warehouses. It was important for Pandora that all serial numbers were tracked, so we used Vista's internal logistics and stock management system to carry out a full audit of devices, from receipt to outbound shipment. On-site installation documentation was produced in collaboration with Pandora IT with Vista ensuring that all on-site requirements were captured, which was of paramount importance to Pandora to maintain its internal due diligence.
PoS systems and back-office tablets needed to be pre-configured for store-specific deployment. Of all the total legacy equipment removed from site, only specific models and devices were able to be redeployed throughout the rollout due to its hardware configuration. The staging team therefore needed to verify these units upon receipt, prior to any configuration works, which was critical for the continuation and overall success of the project. In addition, before the deployment of the new Adyen chip and pin solution, the staging team was required to pre-configure all units so that once deployed within store, they would be immediately live and available for use.

Pandora's Ireland stores, totalling 24 stores, were the first to be completed within a week. Mainland UK pilots commenced the same week, with the main rollout completing 8 weeks later, all achieved within the pre-agreed timescales with no issues or delays.
The solution received excellent feedback from Pandora's in-store customer service teams, by considerably simplifying their typical every-day transactional tasks. Staff were happy in the knowledge that they could leave ongoing IT support issues with Vista and instead concentrate on providing an excellent in-store customer experience.
It is a pleasure to work with such a forward thinking and innovative retailer. Pandora has invested in its retail store technology to enhance the performance and functionality of its EPoS systems. The project has been an immense success due to the Pandora and Vista project teams working in partnership to achieve the project objectives.
James Pepper, CEO (Vista)