Vista Technology Support has enhanced its network infrastructure project services offering with the creation of a new team dedicated to the provision of high quality network infrastructure projects. The new department (Vista Infrastructure Project Services) has appointed former ISG Tech's Sales Director Mark Robinson as Head of Infrastructure Project Services to oversee business development in the new department. Mark will be supported by newly appointed Portfolio Manager, Ian Lewis and Project Manager, Barry Snaden. The team has over 50 years' experience in data cabling and managed services and have worked with high profile clients, overseeing a vast array of new store openings, major network projects and a range of IMaC services to some of the largest retail and hospitality organisations in the UK and Ireland.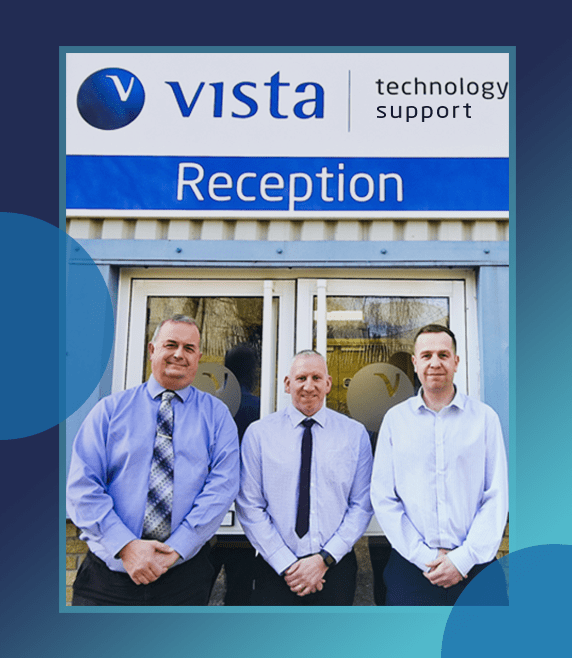 Vista has a wealth of experience in providing data cabling and new store openings and has dedicated and highly experienced data cabling teams that are already deployed in its customers stores and restaurant projects. This area of expertise has seen significant growth in recent years and as such the business has invested heavily in engineering teams, equipment and systems. The addition of Mark Robinson and his team's expertise, operational knowledge and resources will allow Vista to offer this as a specialised service going forward. Vista's Project Services team, led by Sarah Jones, will continue to provide industry leading technology deployment projects and new store opening services to Vista's existing customers.
Mark Robinson commented:
"In a world of hyper-connected services and with a constant drive for technology integration and a 'best in class customer experience' it's easy to forget that everything needs high performance physical infrastructure to operate with optimum performance. The latest IoT, Wi-Fi, colleague comms solutions, HHTs and self-checkouts etc., all require a physical high performing cabling infrastructure. Adding the latest technology end points onto existing Cat5 cabling infrastructure will not get the best out of a retailer's flagship technology. If you need Cat6a, Cat7 or even fibre to get the best performance, then Vista Infrastructure Project Services can help by deploying the very latest infrastructure technology to power your very best customer experience across your store network, combined with mass deployment of endpoint technology often in a single visit."
Head of Project Services, Sarah Jones, commented:
"This is a very exciting time for Vista, and the introduction of the Infrastructure team to complement and expand the existing Project Services offering, will no doubt bring a wealth of opportunity for the business, our staff and our customers – both existing and new.  Exciting times ahead!"
Vista CEO, James Pepper, commented:
"It's great to welcome Mark, Ian and Barry to the team. We have built a reputation for delivering on our promises to customers and provide industry leading technology projects to some of the most well-known brands in Retail, Hospitality and Pharmacy and I believe that investment in key people to continue to drive Vista's growth will ultimately be a huge success for our business. This initiative will also provide added value to our customers. Mark and the team are already opening new doors for Vista and I look forward to working with the team and new clients in the near future. "
Vista Infrastructure Project Services:
Vista Technology Support provides a full range of data cabling services including: cabling surveys, data point relocation, network cabling infrastructure repair and full cabling run projects. Our Data Cabling team has a wealth of experience in retail and hospitality IT network cabling infrastructure and is an approved CommScope and Mayflex cabling installation partner. Our specialist Data Cabling team works to UK structured cabling standards and installs the full range of data cabling including Cat 6/7 and fibre-optic. If you are interested in finding out how your business can benefit from our structured cabling services, please contact Mark Robinson, on 0776 651 2510 or Mark.Robinson@vistasupport.com.